old time music, new and vintage, with old Rambler favorites
---
Down Home | Carter Fold | Six String | Cook Shack | Southern Village | Ireland 1 | Ireland 2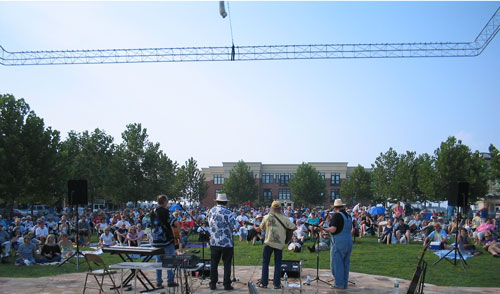 The Original Red Clay Ramblers
with Joe Newberry
August '05 Tour
Southern Village
Chapel Hill NC
August 28, 2005
Mike Craver, Bill Hicks, Jim Watson, Joe Newberry, and a few hundred of their friends on a gorgeous day.
(click pics for larger versions)
SET 1
Rockingham Cindy
Aragon Mill
Henhouse Blues
While the Band Was Playing Dixie
Wind and Rain
The Hobo's Last Letter
The SOB in the Carvel Truck
Leaving Dear Old Ireland
Texas Gals
I Know Whose Tears
Uncle Charlie's Revenge
Beale Street Blues

(click pics for larger versions)

setting up


they're dancing


Jim and Anne

(click pics for larger versions)

SET 2
The Yellow Rose of Texas
Stolen Love
Telephone Girl
You Have Been A Friend to Me
Rabbit in the Pea Patch
That ... Hawaiian Honey of Mine
Daniel Prayed
Sugar Hill
Play "Rocky Top"
The Ace
Leather Britches
Merchants Lunch
Sally Ann


tuning


more dancing!
---
Down Home | Carter Fold | Six String | Cook Shack | Southern Village | Ireland 1 | Ireland 2
More recent concert pics
Home

Close this extra window when finished

The pictures were taken by Anne Berry and Bren Overholt.
Site maintained by
RCR_fan@hotmail.com
August 30, 2005